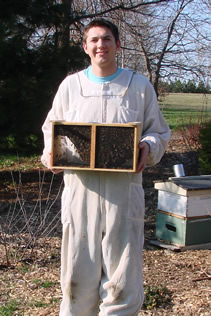 I started beekeeping when I was 12 years old, in 2004, after I received a beekeeping starter set from my father as a Christmas gift. I had asked for the set that year without a clue as to how beekeeping worked, but looked toward it as a sort of challenge. I dove into the hobby and a few mistake-riddled years later, my 1 hive had multiplied into 3 and I was hooked on beekeeping.
Today I have 10 hives that I successfully maintain in my backyard, located in Nowthen, MN. I primarily view beekeeping as a hobby, so I pride myself on producing the most natural, raw honey. The honey I do receive, I typically sell at the Nowthen Threshing Show and Nowthen Heritage Days.
When not beekeeping, my time is spent at the University of St. Thomas pursuing a degree in electrical engineering.